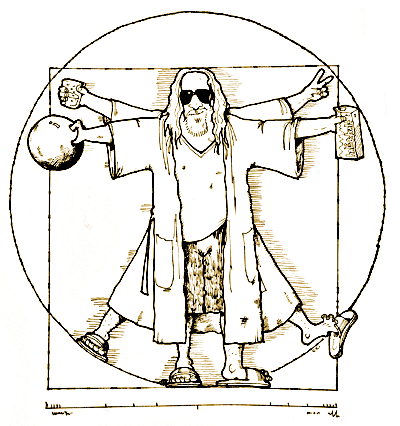 Come join the slowest-growing religion in the world – Dudeism. An ancient philosophy that preaches non-preachiness, practices as little as possible, and above all, uh…lost my train of thought there. Anyway, if you'd like to find peace on earth and goodwill, man, we'll help you get started. Right after a little nap.
First, you might want to
Get ordained as a Dudeist priest. There are over 100,000 worldwide.
I've already mentioned my infatuation with the Brothers Coen. And you may have noticed that I love a good bit of silliness.
So when I saw the above on line -- a religion based on The Dude of "The Big Lebowski" -- I knew at once that it was pretty much just my cup of tea -- or my glass of White Russian, to be more faithful to the film.
And yes, I have been ordained. You may call me 'Mother Vicki' or perhaps 'Your Ineffable
Randomness.'
I stand ready to perform weddings or exorcisms.
(My apologies to those of you who aren't familiar with The Dude -- our regular programming will return soon.)